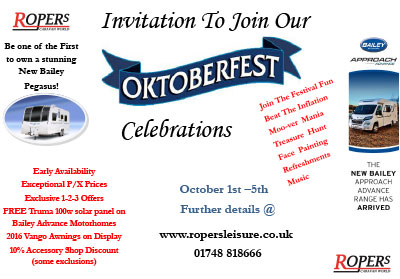 To register your interest please email enquiries@ropersleisure.co.uk
Venue: Ropers Caravan World. Catterick Bridge. North Yorkshire. DL10 7SL.
Date: Thursday 1st to Monday 5th October.
V.I.P PREVIEW EVENING – Thursday 1st 4-8pm BOOKING ESSENTIAL
Friday 2nd –Monday 5th 12-4pm
Join us for fun and special offers at our Oktoberfest event where we are showcasing the stunning new Bailey Pegasus, the exclusive Bailey Jive and the Bailey Advance Motorhome ranges.
EARLY AVAILABILITY
FANTASTIC DEALS ON ALL CARAVANS & MOTORHOMES
EXCEPTIONAL PART EXCHANGE DEALS
EXCLUSIVE 1-2-3 OFFERS ON ALL ORDERS PLACED
10% SHOP DISCOUNT
BBQ & SUCKLING PIG ROAST
FREE ALE
COMPETITIONS, FUN ACTIVITIES AND PRIZES
MOO-VER MANIA
BEAT THE INFLATION CHALLENGE
FACE PAINTING
TREASURE HUNT
MUSIC
This year we were lucky enough to be invited to the Northern Centres Rally 2014 to display the brand new Bailey Unicorn 3 caravans and our own dealer special, The Jive, as well as sell some accessories and generally get involved with the fun and frivolity of the rally weekend!
Travelling to Newby Hall near Ripon on the Thursday, we set up the Lunar Lexon Caravan that the staff would stay in as well as all the brand new display caravans, the Outdoor Revolution Oxygen AirSpeed awning and our own EuRoper Curve lightweight awning. Immediately, we were welcomed into the fold and made to feel very much at home by all the centres members on site that weekend, with offers of cups of tea, plenty of shared conversations and giggles, and invites to the parties!
On the Friday evening, Yvonne and myself went over to the bingo in the marquee, and as self-professed 'bingo virgins' we bought a book of five games each and two cards each for the jackpot game. thoroughly confused, we took our seats at a table, and were soon joined by other 'ralliers' who were more than happy to help us understand the rules of the game! We came close to a 'line' and a 'house' a few times during the 5 book games, but it was obvious that beginner's luck wasn't on our side! It wasn't until the jackpot game when I was able to call 'line' and win £10! I was so close to a 'house' for that game too!
On Saturday morning, we were invited to the official opening of the rally weekend, where all the important people welcomed us all to the site and all the flags for all the centres were unveiled. There was hilarity when one flag did not unfurl when pulled, followed by a nudge with a broom handle, plenty of yanking and eventually a man on a step ladder to help it on it's way. Apparently 'there's always one' every year which doesn't unravel as it should, and it's almost tradition! Following that we were invited to the presidents breakfast where a buffet was served, and we were all given a commemorative plaque for this year's rally.
Saturday progressed well, with the weather mostly holding off, giving us plenty of time to talk to all the lovely caravan and motorhomers on site, show them the new Bailey caravans and get some feedback from them. As well as selling them some accessories of course! Saturday evening, we joined in with the party that was Pop! Go The Movies, and danced and sang as much as anyone else.
On Sunday, we attended the church service in the morning (those that were there may recognise the term 'Fawlty Church'!) before opening shop again. Mandy then took over from me, and did the rest of the Sunday and Monday before packing up to come back here to Ropers Caravan World on the Tuesday morning after a hugely successful weekend.
Overall, we are hugely grateful to the Northern Centres team for having us and to everyone on site who came to say hello and offer tea and share stories with us!